We guarantee you'll find a flavor to love. Oh, and we also guarantee:
we will always design our bars not to trigger common allergies and intolerances (Top 14 free–gluten free, dairy free, peanut free, corn free, tree nut free (see our FAQ about coconut, which we stopped using in June 2017), sesame free, etc, paleo, vegan and kosher).
we will always use organic, non-GMO ingredients.
we will always maximize nutrition and digestibility.
we will always test each batch of our products and provide you with up to date food safety information through our conversational packaging (QR and SMS code enabled).
our products will always be low glycemic.
ZEGO Contains Peace of Mind
---
Here are some other things we think you would like to know.
Access the allergen test data for the bars being sold on this page here.

Peanut

free

We shy away from saying marketing terms like "peanut free" because no one can really guarantee that, but our testing has always shown no measurable peanut residue in our bars.
If you have a new 2015 fall flavor sample in the white wrappers were made in a shared facility that processes peanut, tree nuts, soy, dairy, seeds and gluten on the same equipment, but all production starting in December 2015 will be made in a facility free of the top 14 categories of allergens except coconut.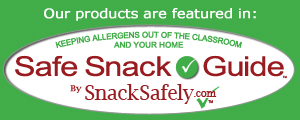 Looking for Deals? Get our Newsletter!